Latin and Greek Internet classes by Skype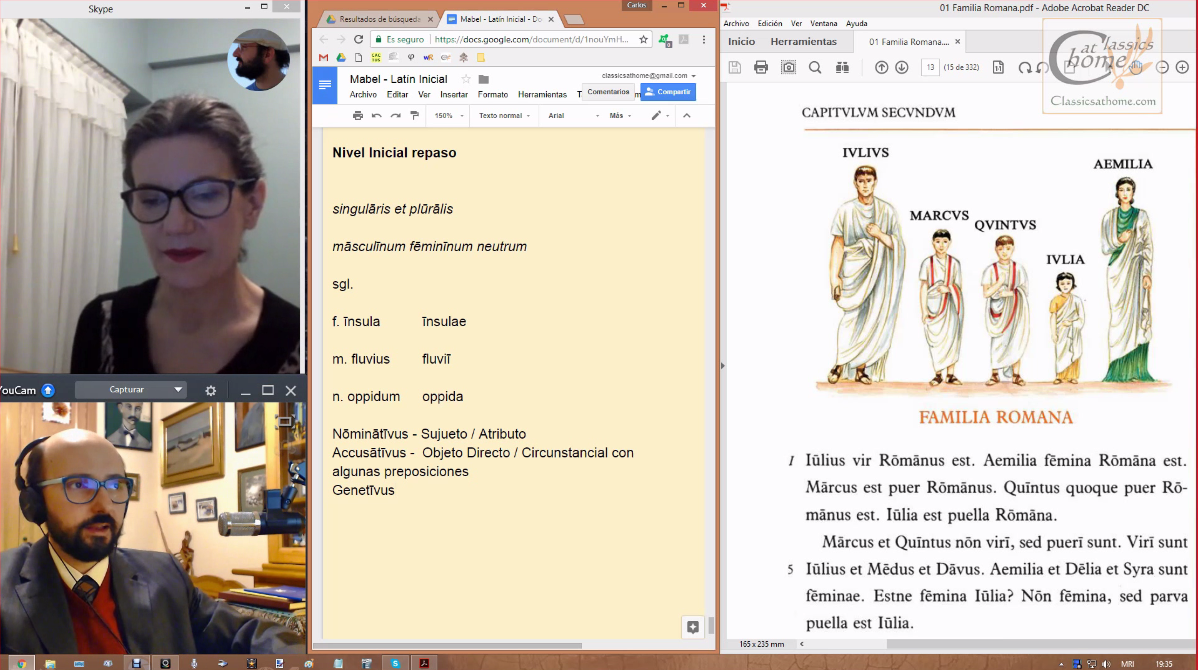 Methodology: Our teaching follows an active, natural approach. From the very first moment the professor speaks in Latin or Greek with the students and asks them to respond to questions using the same language. We prioritize vocabulary acquisition and oral fluency. Grammar is assimilated in a natural way through conversational exercises in the same way grammar is internalized while learning modern languages. We use texts based on active learning as well as our own materials such as audio recordings, video lessons and interactive exercises.
Latin Classes: In the Latin classes we use the books from the series Lingua Latina per se Illustrata by Professor Hans Henning Ørberg, recognized worldwide as one of the best and most efficient methods for teaching Latin. It is a course written entirely in Latin based on the contextual inductive method in which each new word or grammatical concept can be deduced from the context. The student that successfully completes the 56 chapters in the series is well prepared to fluently communicate in Latin and to comfortably read the great authors of Latin literature.
Greek Classes: Our methodology for teaching classical Greek is inspired by Byzantine scholastic traditions. Classes are given from the beginning using the living form of the Greek language, which makes a good knowledge of modern Greek indispensable in taking this course. This methodology allows the student to have a complete vision of the language's evolution from classical times through our own. The student gradually assimilates the differences between the modern and classical forms of the language until becoming able to read and enjoy Greek classics in their original form.
Small-gruop Classes: If you are two or three friends, you can form a small group and learn together, in which case the monthly fee is shared among all. The max number of students per group is three.
Technical requirements: Classes are given via Skype. The only things needed are a high-speed internet connection (HDSL or fiber-optic) and a computer with a microphone. Most students who have never used a videoconference program learn how to use it in a few minutes. Normally by the third class they feel so comfortable that they forget the professor is not in their house.
For further information: You can send us an email in order to arrange a first, free meeting, with no commitement on your part, to discuss your needs and adapt the methodology and schedule to them.